Polish Club: Jeff GoldDOOM Overdrive [via Polish Club store]
$

190.00 Sold Out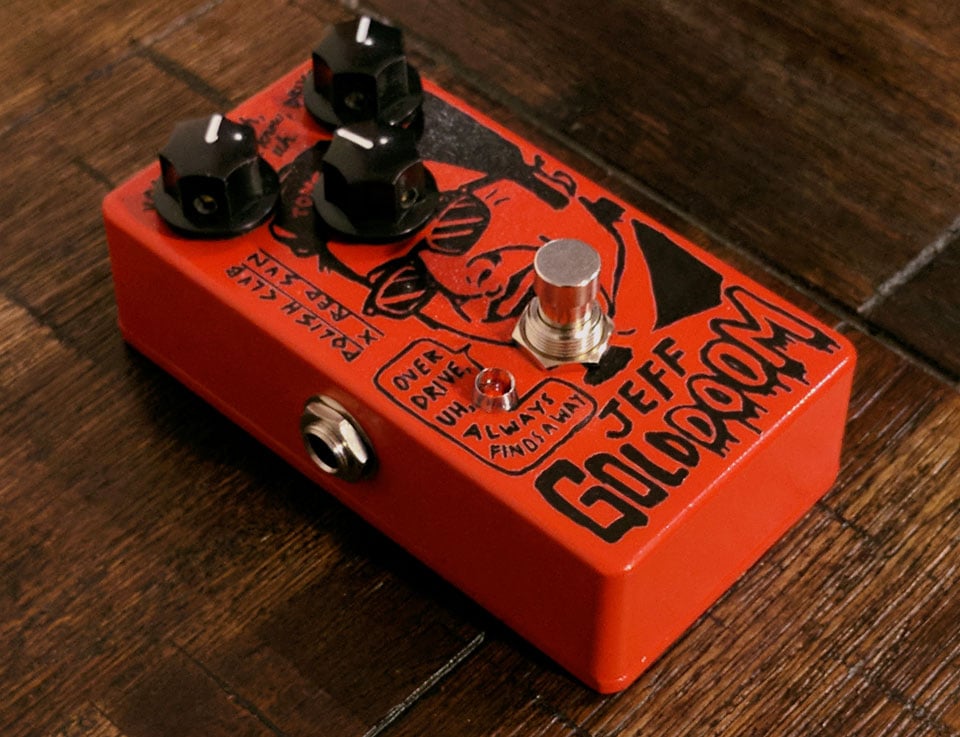 Available via Polish Club Store
David Novak, singer and guitarist of two-man rock band Polish Club, met with us at the Corner Hotel in Melbourne before a show. Soundbox Workshop sound engineer Armando helped David dial in an overdrive fit for his style.
The pedal art – no, the insanely-awesome pedal art – is courtesy of drummer John-Henry.
The result is… The Jeff GoldDOOM Overdrive pedal!
With grunt and sustain, Polish Club's GoldDOOM pedal is a versatile enough to either be held back for warm overdrive on a sunny afternoon, or let rip to bang riffs in the evening.
The tone-stack is centred around a generous old-school mid-scoop, accentuating the circuit's character and bringing out the bottom-end.
The asymmetrical MOSFET clipping has this cool bluesy, dare we say it - "tubelike" edge, with plenty of headroom. Don't worry, we gave the circuit a tonne of gain you you can get those MOSFETs super angry!
We tried to convince Novak that his choice of opamp was not going to be a good match for the circuit... we were wrong, he was right. The super slow slew rate makes for a silky smooth sound, taming the harsh part of the hard clipping topology while still maintaining the rage.
Summed up, it resembles a beat-up RAT in a tuxedo with raging OCD and a mid-scoop that turns Big Muff into Big Blush.
Share